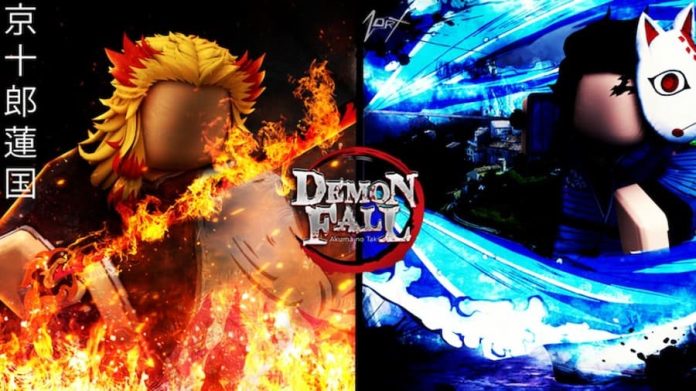 Roblox Demonfall Codes 2022 – All Working Code Roblox Games
Welcome to Demonfall, a Roblox Game. It's based on the extremely popular anime and manga series, Demon Slayer, and is loads of fun. The game allows you to take on bad guys, hone your skills, and fight for survival alongside your comrades. Demonfall Codes redeem for new Resets and additional freebies. These items will set you apart from the rest of the pack, as you play in style!
Full List Code Demonfall
Our Roblox Demonfall Codes has the most up-to-date list of working codes that you can redeem for some easy gifts. Make sure to check back often because we'll be updating this post whenever there's more codes. Copy Demonfall Codes at Mobavn.com and redeem code roblox like the tutorial at the bottom. Use this money to boost up your character, which will have you leveling up and taking down enemies as quickly as possible.
Demonfall Codes Active Update 2022
| | |
| --- | --- |
| Gifts | Codes |
| 5 Wipe Potions, 5 Muzan Bloods… | !update30 |
| Wipe Potion | !code TWITTER1 |
| Combat Potion | !code 150KLIKES |
| Potion Wipe | !code wipepotion |
| Points Reset | !code resetpoints |
You should make sure to redeem these Code Demonfall as soon as possible because you'll never know when they could expire. All of these roblox codes have been tested on the date that this post was released. And come back here often if you want to redeem more roblox codes.
Demonfall Expired Codes
These codes are no longer active & valid in the game Roblox Demonfall. Remember the promo codes Demonfall may expire or only be active for a short period of time. So make sure you redeem code roblox and use your code right away.
How to Redeem Code Demonfall Game Roblox
Open Demonfall
Press the / button on your keyboard to type in the chat.
Type your working code there.
Hit the Enter key.
Congrats! This is how you can claim your in-game rewards.
About Roblox Demonfall
Welcome to Demonfall! This game is not a bandit beating simulator, this game is very different, expect some difficulty
Demonfall is based on the popular series Demon Slayer.
Ascend the hill with the power of humanity on your shoulder, and fight for survival along with your comrades; or head down the ravine to lose ones humanity, and live as a demon with unholy powers.
Fight, explore, learn, grow, eat, all common necessities and virtues of one, despite your path, in this world, its the survival of the fittest.
I hope Roblox Demonfall Codes 2022 helps you. Feel free to contribute the topic. If you have also comments or suggestions, inbox us.
More Roblox Codes Games