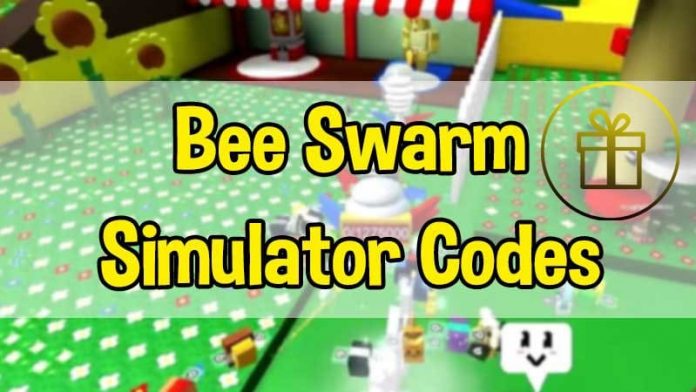 Bee Swarm Simulator Codes Active Update 2022
| | |
| --- | --- |
| Gifts | Codes |
| Many rewards | DarzethDoodads |
| Many rewards | ThnxCyasToyBox |
| 1 Marshmallow Bee, 1 Field Dice, 3 Micro-Converters… | walmarttoys |
| Atomic Treat, Marshmallow Bee, Loaded Dice.. | FourYearFiesta |
| Science Bear Morph, 2 Stump Field Boost… | 500mil |
| Many rewards | PlushFriday |
| 5 Tickets | Roof |
| 5 Tickets | 38217 |
| Stingers, Gumdrops, Coconuts | Mocito100T |
| Pepper Patch Boost, Pepper Patch Capacity | RedMarket |
| +1 Bumble Bee Jelly, +10 Bitterberries… | Cubly |
| 1h Conversion Boost, Marshmallow Bee | Marshmallow |
| Ant Pass, Shocked Bee Jelly, Oil.. | SecretProfileCode |
| 30m Conversion Boost, 2,500 Honey | Sure |
| Bamboo Field Boost (x3), Bamboo Field Winds (x3) | Teespring |
| 5x Tickets, 5,000 Honey | Wax |
| Dandelion Field Boost (×7), 5x Tickets, 5,000 Honey.. | Wink |
| 5,000 Honey | Buzz |
| 5,000 Honey | Nectar |
| 5 Tickets | Bopmaster |
| 5 Tickets | Cog |
| 5 Tickets | Connoisseur |
| 5 Tickets | Crawlers |
| Free stuff | CarmensAnDiego |
| Free stuff | Luther |
| Free stuff | Dysentery |
| Free stuff | Jumpstart |
| Free stuff | Troggles |
| Many free items | 10mMembers |
| Many rewards | MondoOutage |
| Stubborn Bee Jelly and Buff | Banned |
| Free stuff * | 1MLikes |
| Free stuff | WordFactory |
| Free stuff | Millie |
| Free stuff | Troggles |
| 1x Cloud Vial, 5x Gumdrops, 3x Jelly Beans | BeesBuzz123 |
| Magic Bean, Pineapple Patch Boost (x2) | ClubBean |
| 10x Micro-Converters | ClubConverters |
| Marshmallow Bee Buff, Rose Field Boost (x3), Pine Tree.. | Discord100k |
| 15x Gumdrops | GumdropsForScience |
You should make sure to redeem these Code Bee Swarm Simulator as soon as possible because you'll never know when they could expire. All of these roblox codes have been tested on the date that this post was released. And come back here often if you want to redeem more roblox codes.
Bee Swarm Simulator Expired Codes
| | |
| --- | --- |
| Code | Outdated |
| 3YearParty | Expired |
| WintersEnd | Expired |
| BigBag | Expired |
| Buoyant | Expired |
| BlackFriday | Expired |
| 5mMembers | Expired |
| RebootPC | Expired |
| Gumaden10T | Expired |
| … | Expired |
These codes are no longer active & valid in the game Roblox Bee Swarm Simulator. Remember the promo codes Bee Swarm Simulator may expire or only be active for a short period of time. So make sure you redeem code roblox and use your code right away.
How to Redeem Code Bee Swarm Simulator Game Roblox
Find Gear icon top left of your screen and click this icon.
A screen will be opened.
Type codes from above to the blank area. (copy paste these codes)
Hit Redeem button to use codes.
About Roblox Bee Swarm Simulator
Welcome to Bee Swarm Simulator! Servers rebooted to add 20 new Black Bear quests for a Mythic Egg! The Mythic Egg quests begin after you complete his Star Jelly quests (there are 75 Black Bear quests total).
Brown Bear Rework – His quests have a 1hr cooldown, and they scale up in difficulty and rewards with each quest. They reward a Silver Egg (25 quests), Gold Egg (50), Diamond Egg (75), and Mythic Egg (100). If you can somehow complete 300 quests, you'll earn the Brown Bear Cub Buddy Skin!

I hope Roblox Bee Swarm Simulator Codes 2022 helps you. Feel free to contribute the topic. If you have also comments or suggestions, inbox us.
More Roblox Codes Games